Take the guess work out of where to ski each day in NZ with a private guide who works it all out for you.
You've woken up in Queenstown, the snow has fallen overnight and you wonder where should I ski? Will Cardona have got the best of the storm, will Treble Cone have powder stashes, is Coronet Peak the better option or the Remarkables or maybe the backcountry is where you'll find the goods.
Trouble is you're a bit dusty from the night before and can't read a barometer from a pressure system, you clearly need some help.
Which is where a private guide comes in. He's probably already brewed the coffee and juiced some oranges for you, he may even have waxed your skis and set up your kit ready for when you haul your sorry butt out of bed.
If he knows his stuff then he will have chosen which ski run you'll be skiing to make the most of the conditions on offer that day and he'll drive you there, carry your skis and practically take your turns for you.
Mark Dewsbery is that man. He's been a mountain guide for eleven years, founded the legendary Heli Park in Canterbury where he guided for nine years and has spent more recent years guiding for Southern Alps Heli Ski before founding Alpine Adventures.
"There is nothing better than a job where you can make other people smile so enjoying my passion of the outdoors with others is a privilege" says Dewsbery, a true Kiwi man from farming heritage who spent twenty six of his years farming the land.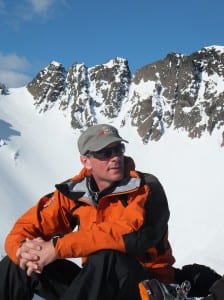 "I often heard while ski patrolling the same two words "if only" – if only we knew TC had better chutes, if only we knew Ohau was two hours away, if only we had hire a car, if only we knew Cardrona had better powder today which is why I started my private guiding company. It's your holiday so let someone else sort out the best places to go.
New Zealand has some of the craziest weather patterns, it can be sunny in Queenstown while two hours away at Ohau they can be getting 30cm of snow, Treble Cone can get 40cm overnight but be windblown crust in the morning while the Remarkables might not get any wind just the pow."
Dewbery's new venture offers everything from a fully set up luxury ski holiday with all the trimmings to simple private guiding for a day.  You can fly into Christchurch and ski six resorts as you make your way to Queenstown where you fly home or you can set yourself up in one destination.
Prices start from NZ$450 per day including door to door pick up, private transport up and down the mountains, guiding to the best places on that mountain and your own time schedule.
Visit their website for more details.
Read the original story on Snowsbest.com